Set in the beautiful countyside of County Durham, in the valley of the River Browney lies the village of Lanchester, sited approximately eight miles to the west of the Historic city of Durham.
Lanchester got its name from the Roman fort of Longovicium situated half a mile south-west of Lanchester itself.

It is believed that even before the Romans came to the area the valley was inhabited by Brigante tribes.
Evidence of this was found at Hollybush Farm when an arrowhead was unearthed and also at Upperhouses Farm where a stone axe and a bust of a Celtic god was found. Evidence of saxon man has also been found with the discovery of a Viking sword, axe heads and scythes in a stream near Hurbuck cottages.
Many Farms, Manors and Halls sited in and around Lanchester played an important part in village life, they provided many of the villagers with employment.
Within one or two of these larger house dwelt some of the regions most historical figures.
Now a thriving and substantial village, the size and grandeur of its Church indicates that this has been an important religious centre since the Norman times.
The course of the disused railway line now known as the Lanchester Valley Walk provides pleasant walks in the direction of either Consett or Durham,where it links at each end with a network of other disused railways and tracks suitable for walking and cycling.
At the Consett end the valley walk links to the SUSTRANS C2C cycle route.
An award winning national cycle route stretching from Whitehaven and Workington in the North West of England to Sunderland or Tynemouth in the North East.

Lanchester. NZ 165475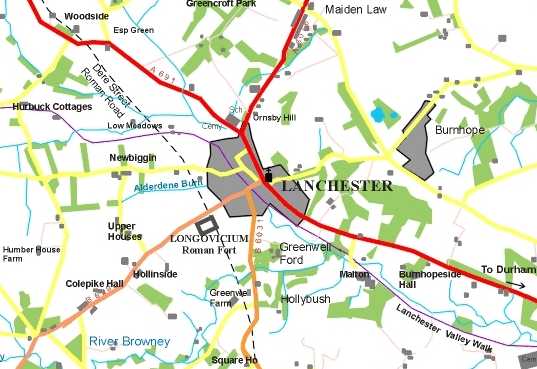 Follow these links for more about...


Lanchester All Saints Parish Church

The Roman Fort

At nearby Burnhopeside Hall lived William Hedley the inventor of the locomotives 'Puffing Billy' and 'Wylam Dilly'. The former of the two is now housed in the Science Museum in London where it is said to be the oldest locomotive in the world.
A memorial to William Hedley can be seen in the Church.
Doctor William Greenwell of Greenwell Ford, a noted historian, archaeologist and author, was made Canon of Durham Cathedral in 1854, before becoming librarian to the Dean and Chapter in 1862.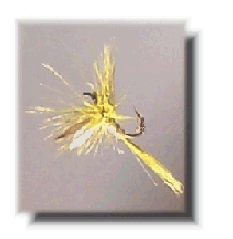 A keen fisherman, he will be mostly remembered for his famous trout fly
'The Greenwell Glory', (left) still used by many anglers today.
Canon Greenwell died at the age of 97 in 1918 and is buried in the village churchyard.
The poet, Dora Greenwell, Williams sister, was born at Greenwell Ford in 1821. She was aquainted with Christina Rossetti another great poet of this time, they both shared an interest in theology.
Dora was an advocate of better education for women and supported the right for women to be allowed the vote.
Two of her poems are included in the Methodist hymnbook although she was in fact an Anglican herself.



Back to top
Photographs Copyright &copy 1999, Lynn Hedley.
Please do not use any information or Photographs from this site without permission of the author.
If you are interested in local history follow this link for information about
Lancester Local History Society.
The group holds regular meetings, with a variety of talks given by first class speakers.



This site has been visited
times to date.
Acknowledgements
Information drawn from a booklet entitled "All Saints' Parish Church Lanchester Co.Durham" by C.W. Gibby
available from the Church.
And also information kindly lent to me by Mr K. Leary from his own research
Disclaimer
These documents could include technical inaccuracies or typographical errors.